Energy drinks are drinks that contain stimulant compounds, usually caffeine. Energy drinks are marketed to provide mental and physical stimulation. There are many energy drinks brands available in the market. Energy drinks may be carbonated or non-carbonated. In this article, you will learn about keto-friendly energy drinks and if you can consume these drinks on a low carb keto diet.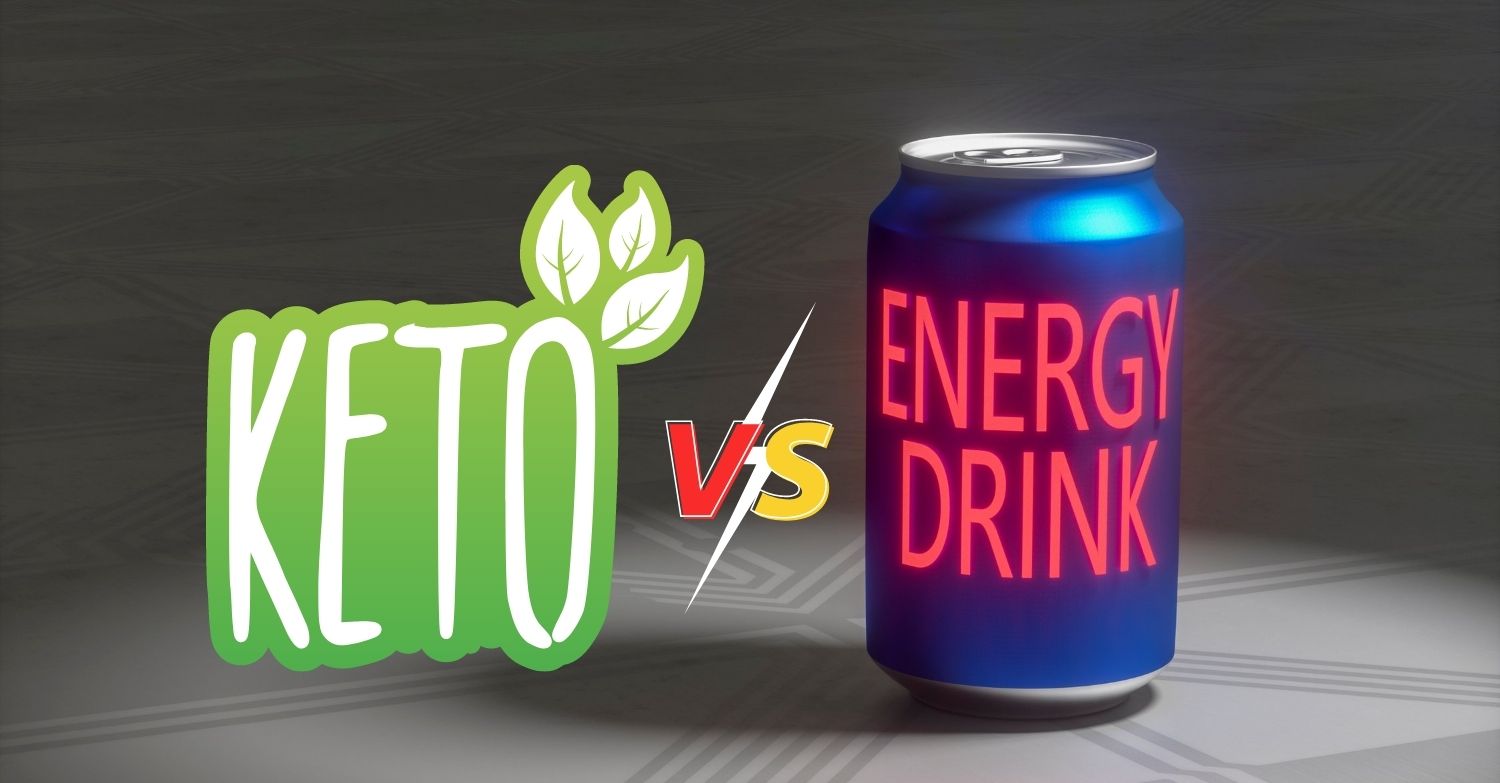 Are There Any Keto-Friendly Energy Drinks?
There are some Energy Drinks that are low in net carbs but ideally, they should still be avoided on keto because they may contain unhealthy ingredients like sucralose, aspartame, and acesulfame K.
Dirty Keto is a term used for low-carb foods with unhealthy ingredients (unhealthy as compared to clean keto). You can still reach ketosis and lose weight with dirty keto, but it can also lead to health problems in the long run. These energy drinks fall under the category of dirty keto as they are low in carbs but may have other unhealthy ingredients.
If you still want to continue your keto with dirty keto and want to enjoy energy drinks, then here are the energy drinks that are low in carbs and can be consumed on a keto diet (dirty keto).
1. Red Bull Total Zero
Red bull is one of the most famous energy drinks all over the world. Instead of regular sugar, Red Bull Total Zero uses aspartame and sucralose for sweeteners.
1 can (8.4 FO) of red bull total zero energy drink contains the following:
Calories: 12.7 kcal
Protein: 0.6 g
Fat: 0.2 g
Carbs: 1.8 g
Fiber: 0 g
Net Carbs: 1.8 g
Ingredients: Caffeine, B vitamins, taurine, aspartame, sucralose, acesulfame K and water.
Red bull total zero contains 80mg of caffeine per can (8 fl oz), which is not too high. So, Red Bull is a good option if you are sensitive to caffeine.
2. REIZE Energy Drink
REIZE Energy Drink is also one of the most keto-friendly energy drinks.
1 sachet (4 grams) / 1 cup (8.4 fl oz or 250 ml) of REIZE energy drink contains:
Calories: 15 kcal
Protein: 0 g
Fat: 0 g
Carbs: 4 g
Fiber: 0 g
Net Carbs: 4 g
REIZE is a powdered energy drink that is portable and convenient to carry around, as it only weighs 4g per sachet. You just have to add water.
3. Rockstar Zero Carb
Rockstar Zero Carb energy drink is another keto-friendly option. It has zero sugar.
1 can (16 fl oz) of rockstar zero carb energy drink contains:
Calories: 19.2 kcal
Protein: 1.2 g
Fat: 0.4 g
Carbs: 3.4 g
Fiber: 0 g
Net Carbs: 3.4 g
Rockstar zero carbs energy drink is low in carbs but it has an extremely alarming amount (240 mg) of caffeine in a single can (16 fl oz). I don't know about you, but that's too much for me.
4. Monster Zero Ultra
Another keto-friendly energy drink with zero sugar is Monster Ultra Zero.
1 can (16 fl oz) of rockstar zero carb energy drink contains:
Calories: 10 kcal
Protein: 0 g
Fat: 0 g
Carbs: 4 g
Fiber: 0 g
Net Carbs: 4 g
5. Celsius Sparkling Energy Drink
Celsius Sparkling energy drink has zero sugar which is keto-friendly and it has a wide range of flavors available.
1 can (12 fl oz or 355 ml) of rockstar zero carb energy drink contains:
Calories: 15 kcal
Protein: 0 g
Fat: 0 g
Carbs: 8 g
Fiber: 0 g
Net Carbs: 8 g