Herbs and spices are an excellent way to flavor your foods without adding any significant number of calories or carbohydrates. Here you will find the complete list of keto-friendly spices, herbs, and seasonings you can eat if you are on the keto diet.
Seasonings may have more calories and carbs than spices and herbs. When shopping for seasonings, it's also important to check your ingredient labels to look for sugar and sweeteners. You'll have to buy seasonings that are minimally processed and that use whole foods.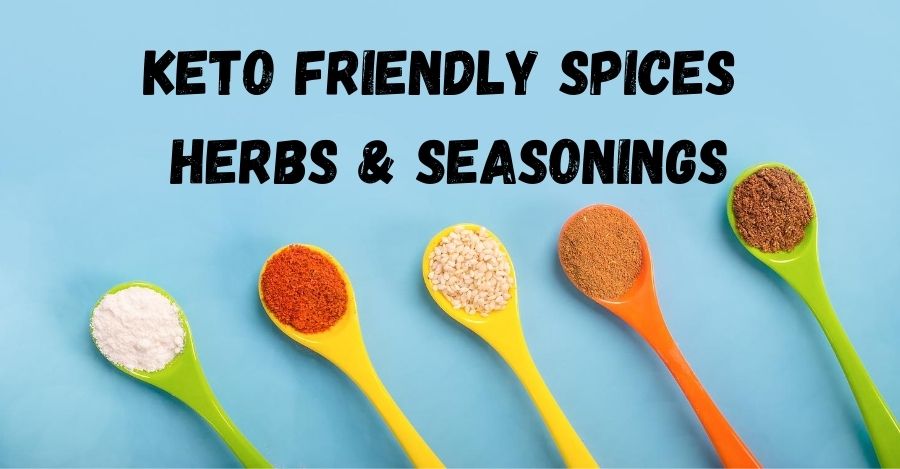 To overcome this issue completely, you can make your own seasonings at home. Blending herbs and spices on your own can yield flavorful, keto-friendly seasonings, and you won't have to worry about added sugars or other sweeteners.
Keto-Friendly Spices And Herbs
Here is the list of keto-friendly spices and herbs that you can use on a keto diet.
Basil
Black pepper
Cayenne
Cardamom
Chili powder
Cilantro
Cinnamon
Cumin
Curry powder
Garam masala
Ginger
Garlic
Nutmeg
Oregano
Onion
Paprika
Parsley
Rosemary
Sea salt
Sage
Thyme
Turmeric
White pepper
The following spices and hers have under 5 grams of carbs per tablespoon:
Chili powder (4.1 grams)
Turmeric powder (4.4 grams)
Ground cumin (2.75 grams)
Cayenne (3 grams)
Oregano (3.3 grams)
Curry powder (3.7 grams)
Paprika (3.8 grams)
Pumpkin pie spice (3.9 grams)
Vinegar On Keto Diet
Vinegar is a blessing for people on the keto diet as most kinds of vinegar have zero carbs, except balsamic, which sometimes has a lot of added sugars.
The following kinds of vinegar have under 1 gram of carbs per tablespoon, so these can be easily used on a keto diet.
Distilled vinegar
Apple cider vinegar
Red wine vinegar
White wine vinegar
Ume plum vinegar
Keto-Friendly Seasonings
I have given you a comprehensive list of keto-friendly spices, herbs, and vinegar. You can combine these spices, herbs, and kinds of vinegar to make seasonings for the keto kitchen.
Want to know more about other keto-friendly foods? Check this Complete List Of 100s Of Keto-Friendly Foods that are allowed on a keto diet.