Salads are your best friend during a low carb diet like a keto diet or paleo diet. Salads are good due to their higher amount of fiber and a lower amount of net carbs. There are many keto salads that you can enjoy if you are on a ketogenic and low card diet.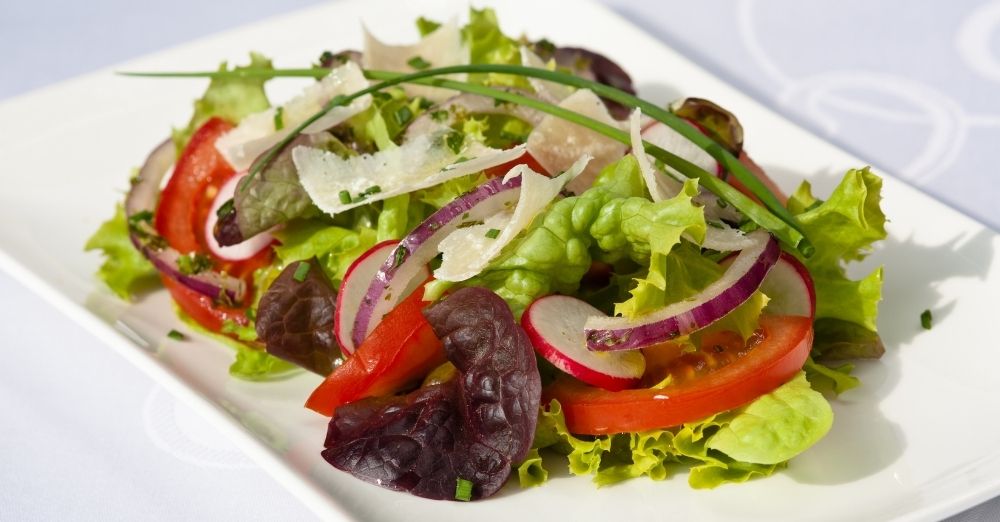 Spring Salad with Shaved Parmesan (Keto & Low Carb)
This spring salad with shaved parmesan is a great combination of fiber and protein to provide you exactly what your body needs during a keto diet.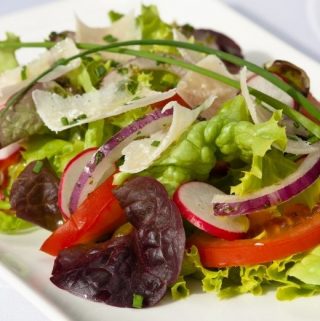 Spring Salad with Shaved Parmesan
Ingredients
3

slices

uncooked bacon

2

tablespoons

red wine vinegar

1

tablespoon

Dijon mustard

Salt and pepper

Liquid stevia extract

to taste

4

ounces

mixed spring greens

½

small red onion

sliced thinly

⅓

cup

roasted pine nuts

¼

cup

shaved parmesan
Instructions
Cook the bacon in a skillet until crisp then remove to paper

Reserve ¼ cup of bacon fat in the skillet, discarding the rest, then chop the bacon.

Whisk the red wine vinegar and mustard into the bacon fat in the

Season with salt and pepper, then sweeten with stevia to taste and let cool slightly.

Combine the spring greens, red onion, pine nuts, and parmesan in a salad bowl.

Toss with the dressing, then top with chopped bacon to serve.
Nutrition Info (Per Serving):
295 calories
25g fat
14.5g protein
6.5g carbs
3g fiber
3.5g net carbs