The pistachio is a tasty nutrition-rich nut.  Pistachios are one of the keto-friendly nuts and you can enjoy Keto Pecan Recipes if you are a keto dieter. Dark chocolate is a favorite food of almost every kid and adult. You can enjoy these delicious Keto Chocolate Recipes if you are a keto dieter.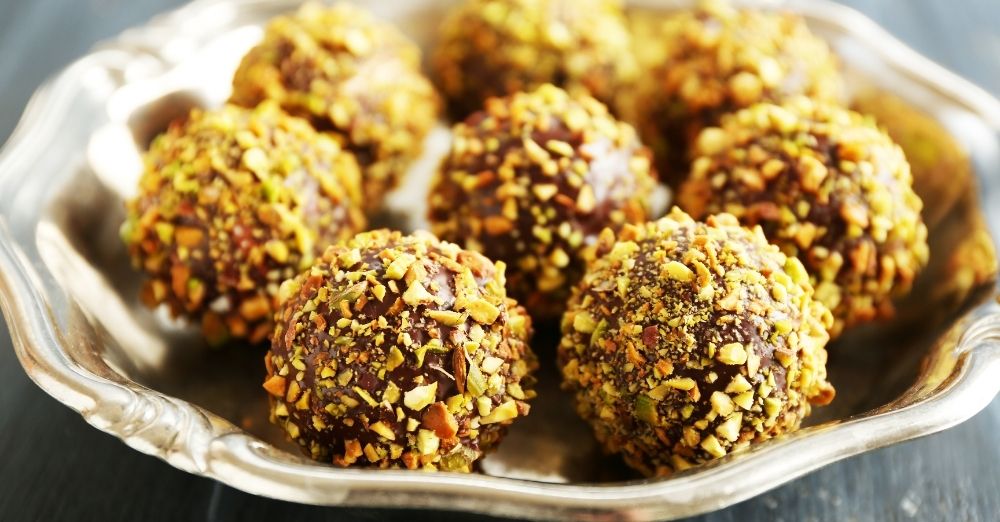 Dark Chocolate Pistachio Balls
Here is the recipe for Dark Chocolate Pistachio Balls. This is a low-carb, paleo-friendly, and keto-friendly recipe. You can enjoy this deliciously healthy recipe on the ketogenic diet.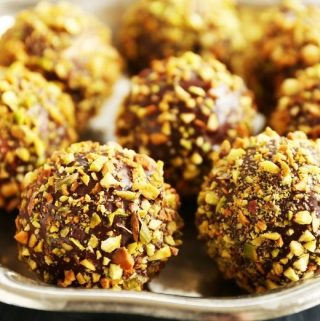 Dark Chocolate Pistachio Balls
Equipment
Refrigerator

For Chilling
Ingredients
1

cup

coconut butter

1

cup

canned coconut milk

1

cup

finely chopped pistachios

1

teaspoon

vanilla extract

Liquid stevia extract

to taste

¼

cup

chopped dark chocolate

½

teaspoon

palm shortening
Instructions
Combine the coconut butter and coconut milk in a small saucepan over low heat.

When melted, stir in all but 1 tablespoon of the pistachios along with the vanilla then sweeten to taste.

Remove from heat and chill for 1 to 2 hours until firm.

Divide the mixture into 16 portions and roll them into small balls.

Melt the dark chocolate in the microwave with the palm shortening.

Dip the balls in the chocolate and place them on a plate.

Sprinkle with the remaining pistachios, then chill until the chocolate is hardened then serve.
Nutrition Info (Per Serving):
Calories: 250 kcal
Fat: 24g
Protein: 3g
Carbs: 10g
Fiber: 6g
Net Carbs: 4g